Motivational merchandise to help you make positive changes
Why Bee-Key?
There are many wonderful organisations that support businesses in improving the mental health of their staff. Charities like 'Herts Mind Network', companies like 'Mental Health First Aid England', and many others.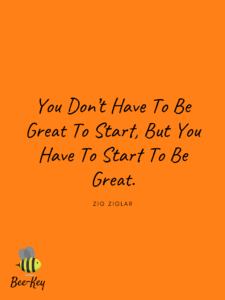 The training that they provide is fantastic and is one of the big leaps forward in the mental health revolution.
This is all good news, except for the fact that, if, like me... you are human, you are likely to find change difficult. It is human nature to default back to old habits, even when you learn something new that can improve your life. Unless it is constantly repeated to you, over and over and over and over and over again. You are most likely to forget your training and continue life as you did before your training even happened.
This is where Bee-Key fits in. We provide you with the compulsory repetition that you need to make those changes stick. We will look at everything from your environment aesthetics and your product requirements to your available budget and we will work with you to find the most cost-effective solution to make sure you can maintain a mentally balanced office and a happy bank balance.
Next Step...
To find out how Bee-Key can support your business, give us a call, or submit your name and phone number or email address, and a Bee-Key consultant will call/email you back within 1 working day.